Perhaps a pipe burst, your roof took damage, or the swelling of the nearby bodies of water got out of control when a seasonal hurricane barreled through. Either way, you've been left high and dry.
Well, sort of.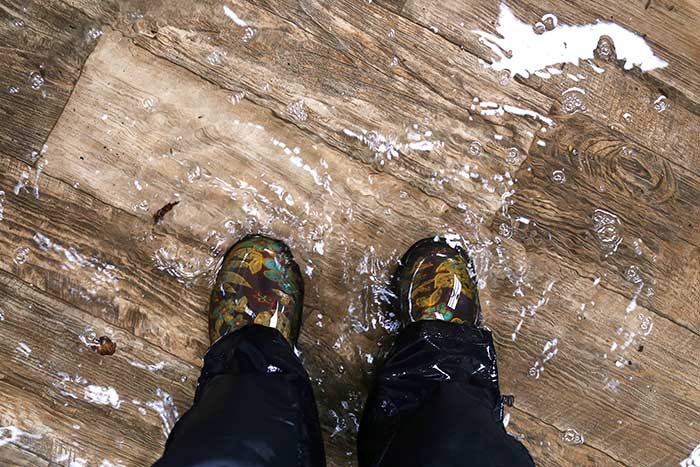 Come time to tread the damp floorboards of your property and assess the water damage, we're sure you'll be asking one rather important question: Can I fix this?
What To Expect When Your Wood Is Water Damaged
The longer water is left sitting and pooling around your property, the more susceptible to damage and warping your hardwood floors will become. For example, common water-related flooring problems include:
Cupping
Crowning
Buckling
Mold
Stains
And more
Cupping and crowning are distortions resulting from excessive moisture. Specifically, cupping occurs when the edges of the wood curl upward around the middle, whereas crowning is when areas of the floorboards have been raised higher at the middle section than at the edges.
Unfortunately, if your floors have buckled as a result of water damage, those areas will not be able to be repaired.
"A buckled wood floor requires replacement wherever the buckling has occurred," as explained by the National Wood Flooring Association (NWFA). "Once the flooring has buckled, the fasteners or adhesives are no longer effective, and the system will never return to its original state."
Dodging Disastrous Damage
If you're wondering how soon, exactly, you should get the water extracted, the answer is simple: as soon as possible.
That being said, should you be facing more extensive flooding — such as after a hurricane or other natural disaster — and cannot attend to it immediately, the Centers for Disease Control (CDC) recommends attending to the area within a period of 24-48 hours in order to prevent mold growth.
Be sure to also use fans to dry the area as well as leave doors and windows open to help naturally air out the area (weather permitting, of course).
Moreover, to complete a safe and efficient water extraction, you'll want to call your locally-trusted remediation professionals, like ServiceMaster Restoration of the First Coast!
Finding Footing on Damaged Flooring
In the event your wood flooring does, in fact, take damage, your next step will likely involve contacting your insurance company in order to file a claim.
"Homeowners and renters insurance provides coverage for burst pipes, wind-driven rain, and damage resulting from ice dams on your roof," according to the Insurance Information Institute (III). "Generally speaking, water that comes from the top down — such as rainfall and burst sprinklers — is covered by a standard homeowners policy."
What's more, not only can ServiceMaster Restoration of First Coast perform both water extraction and water damage mitigation for you, but we'll also help you navigate the insurance process, effectively being there for you every step of the way!
If your property, be it residential or commercial, has suffered water damage, you don't have to deal with the disaster alone.Our locally owned and operated team is available 24/7 to provide you the support and services you need. Contact us today by calling (904) 219-0635 to learn more!