As we launch into autumn, it's hard not to reflect on the suspiciously smooth sailing Florida has experienced during the 2020 hurricane season.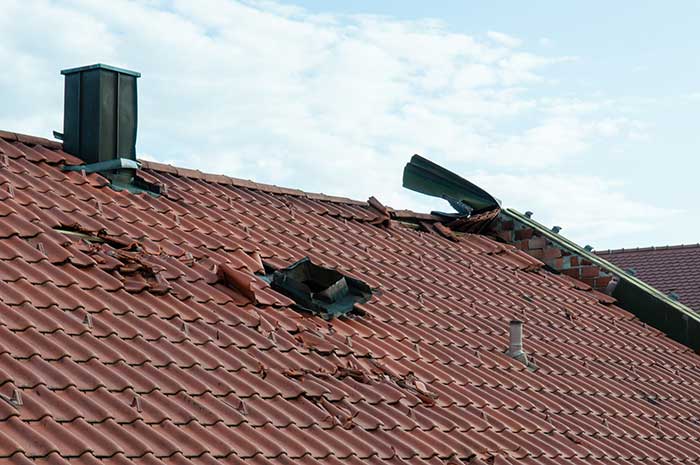 But just because almost all of the named systems this year have skirted their way into surrounding bodies of water — rather than crashing into our coasts — that doesn't mean we're in the clear.
After all, storm season isn't over yet, which means the possibility of taking roof and water damage remains. Here's what to keep in mind if this happens to you:
Looking For Roof Damage
Following a storm or hurricane, the first and most important step to take is to ensure your surroundings are safe. While searching for roof damage may be critical to your property's structural longevity, you never want to attempt to interact with your surroundings if downed power lines, debris, flooding, or other hazards are still present.
But if all is well, we recommend using a pair of binoculars to survey your roof as you do not want to climb on it yourself.
Specifically, be sure to look for:
Loose or falling shingles
Holes and dents
Sagging surfaces
Missing gutters
Signs of roof damage following a storm may indicate that your home has suffered water damage in the midst of heavy rain and winds. Additionally, if not handled properly, you may be opening your home to further structural and water damage in the future.
What To Do If Damage Has Occurred
Whether you're dealing with residential or commercial property, be sure to catalog any damage you find, both in writing and (if possible) in photographs. Not only will this come in handy when you're creating a comprehensive list of actions to take, but it will also be helpful when it comes time to deal with your insurance.
That being said, you'll first want to turn your attention toward existing water damage. Survey the inside area of your attic to determine whether or not water intrusion has occurred, and carefully remove any items that may have fallen victim to moisture.
If leaks are present and/or ongoing, clear the space and use buckets, pots, or other resources to capture the water until you can call our team to perform an expert water extraction process.
Looping In Your Insurance
Once you have surveyed your property, documented the damage, and taken immediate steps to responsibly mitigate further damage, it's time to reach out to your insurance company to request an immediate roof inspection.
This is where your prior documentation will come in handy, as it will help you and your insurance company to be on the same page. Additionally, if you purchased any emergency resources prior to their arrival on-site, hold on to your receipts. Your insurance may reimburse you for certain expenses.
Otherwise, ServiceMaster Restoration of First Coast is available 24/7 in the aftermath of a hurricane or intense storm. You should never have to deal with the fallout of an emergency alone, and attempting to extract and remediate water damage without professional help is often detrimental to one's safety.
That's why, not only is our team certified to perform these procedures to the highest standards, but we are also available to help you navigate the claims filing process while you focus your attention on recovery.
To learn more about our ability to respond immediately after a disaster, or if you have further questions about how we can help you file with your insurance, contact us today by calling (904) 219-0635!