In a matter of months, we'll all be pulling up the news to watch the ever-changing prediction of spaghetti model plots and wind arrival times.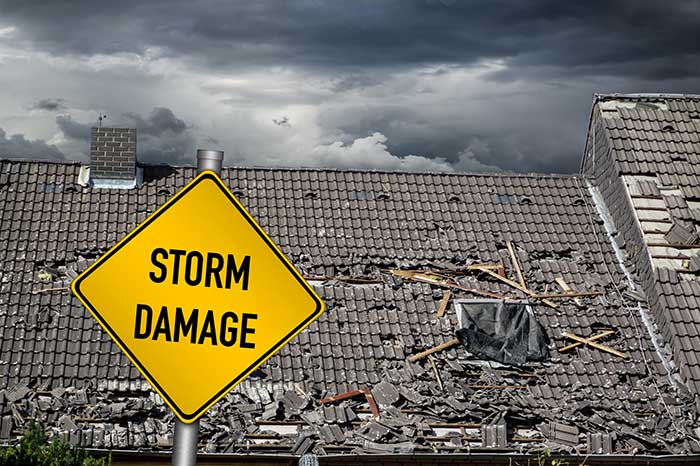 After all, no Florida summer is likely to pass without the annual onslaught of hurricanes.
Thus, we're here to educate you on some of the most common forms of hurricane damage you may encounter in the hopes that you can better prepare yourself for the coming season:
Flooding Damage
According to the National Hurricane Center (NHC), a storm surge is commonly one of the most dangerous hazards brought on by either a hurricane or tropical storm. And, even when they're not deadly, they're still capable of flooding your home or business with several feet worth of water.
Subsequently, your property may be subject to extensive water damage, structural rot, mold growth, and more.
Roof Damage
Between hurricane-force winds, lightning strikes, hail, and more, your roof is one of the most susceptible areas of your property in terms of hurricane damage.
Specifically, there are a number of events that could cause damage: A tree could be struck by lightning, and then fall over and onto your home; weak shingles could be torn away by merciless winds; or existing punctures or cracks may even let water in, rendering your whole property vulnerable to mold and water damage.
Broken Windows
If a hurricane rattles your windows, it will also certainly rattle your nerves. After all, hurricane-force winds are notorious for creating pressure that blows your windows inward — and that's if airborne debris doesn't impact them first.
Thus, the Federal Emergency Management Agency (FEMA) recommends that property owners invest in storm shutters to further protect their windows.
Structural Devastation
Remember how storm surge is considered an extremely hazardous threat? One of the reasons is that, if strong enough, these raging storm waters are capable of battering and submerging properties altogether.
Thus, residences and businesses may return to find gaping holes, dents, and other forms of damage where the water first slammed against the exterior. Additionally, sitting water may weaken the structural integrity of the property by causing wood rot.
Fire Damage
Rainy, blusterous, and consistently blowing in during the height of the humid summer, one might not necessarily think to associate hurricanes with fire. But the culprit here isn't the hurricane itself — it's the candles used during power outages.
"An estimated 26% of fatal candle fires occur during the loss of electrical power," according to both the National Candle Association and the National Association of State Fire Marshals. "Power outages as a result of hurricanes and severe weather cannot be avoided, but accidental candle fires can."
At the end of the day, blunt hurricane damage can be nearly impossible to prevent. However, finding trusted professionals to help you manage the aftermath doesn't have to be.
Whether you're dealing with water damage, fire damage, or are in need of some other form of remediation, ServiceMaster Restoration of First Coast can be called anytime 24/7 to provide you with aid in the wake of a disaster!
You don't have to handle a hurricane emergency alone — we'll even help you navigate the insurance process. To learn more, contact our team today by calling (904) 219-0635.