Storm season is hot on our heels. Is your attic ready to weather the storm?
If you're not sure, you'll first want to assess its current condition, meaning you'll specifically want to check it for signs of water damage. Should you find any leaks, stains, or other noticeable indications of moisture, you'll know to take action before the summer storms settle in.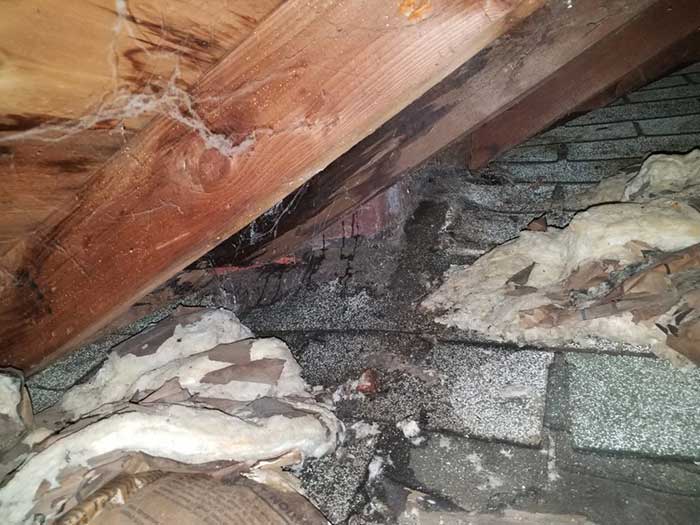 But if you're not sure what to look for, don't worry — we're here to provide you with an easy guide to water damage in your attic!
The Water Is… Where?
"The number one enemy facing an attic is moisture," according to the U.S. Department of Energy. "It can enter from any direction — above, below, or from the side — and it can warp and damage the roof, render insulation useless, and create moisture problems in the main living areas of the house."
Thus, we recommend you look for the following signs of water damage within your attic:
Water stains
Warped shingles
Damp insulation within the attic
Warped or rotting wood within the attic
Rotting soffits and/or fascias
Bubbling or peeling paint
Otherwise, if you notice any existing mold or mildew anywhere in the attic space, you can automatically assume there is moisture intrusion present.
Questioning The Cause(s)
Your home can be considered living in its own unique way; that is, the property breathes, consistently releasing stale air and filtering new clean air by way of the HVAC system. However, should this ventilation process not function properly within the attic, you'll have problems.
"In the summer, natural air flow in a well-vented attic moves super-heated air out of the attic, protecting roof shingles and removing moisture," as explained by Energy Star. "The insulation will resist heat transfer into the house."
If the ventilation is inefficient, on the other hand, moisture is sure to be close behind.
But general ventilation aside, the following may also cause water damage within your attic:
Leaking pipes
Bursting plumbing
Weak insulation
And more
Manage And Mitigate With The Professionals
What goes up, must come down… and water damage isn't an exception. In fact, if you don't take care of water damage in and around your attic, it's liable to make its way downward and spread throughout the rest of your property.
Thus, you'll want to call your locally owned, operated, and trusted remediation company: ServiceMaster Restoration of First Coast!
Not only do we provide water extraction services in addition to water damage mitigation expertise, but we can also perform a certified mold remediation in the event that spores have already begun to proliferate in your attic.
In short, you never have to handle a disaster alone.To learn more about how we can help you restore your property to optimum conditions, contact our team today by calling (904) 219-0635!